GENERAL
[VIDEO] Jill And Joe's New Years "Toast" Reminds Many People Of Another Infamous Couple
Have you seen Joe and Jill's New Year message?
Join Our Telegram channel here: https://t.me/TheTrueReporter
It's okay if you haven't heard the message. I think that only a few people saw it. I am among those people, and I was shocked.
Before Christmas, Biden told the unvaccinated Americans that we are in front of winter on death and illness. He added that the unvaccinated Americans would overflow the hospitals, and they had to think more and save their family and friends.
But, at this point, the vaccinated population is spreading C-19. Dr. Fauci said that vaccinated people should avoid restaurants and public places.
Check this out:
Lord Fauci says Vaccinated & Boosted people should avoid Restaurants & other public places.. saying risk of getting Covid is too high. What was the vaccine for then? Then says vaxxed people should only be around other vaxxed people. But That's a good way for them to get Covid! 🤡 pic.twitter.com/MfybvdbQxB

— Mucho Gusto (@Outcome42) January 3, 2022
Based on all these words, I think that he would deliver a dystopian nightmare to keep things consistent.
He didn't do that. Biden acted like everything was okay, and we were winning the C-19 ware. He was positive and celebrated the greatness as our life savior. I think that it was really weird and bizarre, one week before the doom and gloom, death, and diseases.
It's insane to take a victory lap about strong America when we face inflation and soaring gas prices, and many Americans are surviving; they aren't living. We were like Romania in 1980.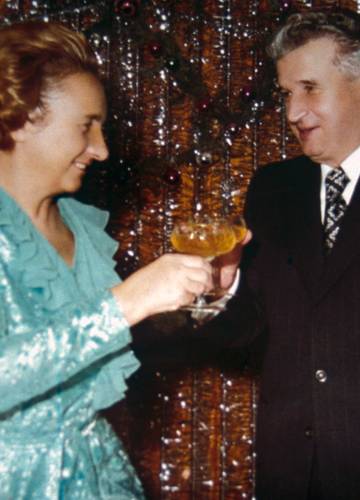 Some savvy people over at Citizen Free Press observed the speech of the president and the first lady.
The Bidens clinked their champagne glasses together and told the people they celebrated their misguided greatness.
Over thirty years ago, Romania's tyrannical communist dictator Nicolae Ceausescu and Elena were executed by firing squad after a summary trial. They were convicted of genocide and the murders of more than 60 000 people.
No one says that Joe and Jill are genocide murderers, but no one could deny the comparison of these two couples pushing the tyrannical agenda while their opportunistic wives help them fulfill their goals.
Take a look at the video below:
Here are the online comments:
"How dare these wicked infidels invoke the great name of God while they callously destroy the lives of those around them!
They speak of America being United when they are the very ones creating the divisions, hatred and class warfare between groups: non-whites vs whites, vaccinated vs non-vaccinated, males vs female, rich vs poor, etc They claim to honor respect the troops while abusing them and forcing them to take the deadly cocktail labelled as vaccines, denying them all religions exceptions and destroying the careers of many men and women who has dedicated they lives to the military. So yeah, raise your champagne glasses and toast, eat drink and be merry, you are all puppets on a string."
"From a political standpoint Dr. Jill Biden is the acting president. She is in control. Joe even appears to wince when their prop dog comes up to him! The messaging of this video is WEAKNESS, WEAKNESS and more WEAKNESS! Joe's voice is as though he is suffering from some illness. It is almost as though Jill visited Joe in a nursing home and asked him if he would do a video for the grandkids! Unbelievable messaging."
"More like Mr and Mrs Caligula"
"Look at where the cuts in the video are."
"Charles Manson is more inspiring than Brandon and homewrecker Jill."
"They'll be clinking their glasses in hell."
Joe shows how uninterested he is in how Americans feel.
Join Our Telegram channel here: https://t.me/TheTrueReporter
Source:  waynedupree.com