GENERAL
REPORT: Minors Receive COVID-19 Jab At Louisiana High School Without Parental Consent
It isn't the first time we have witnessed children getting the C-19 shot without the approval of their parents.
Join Our Telegram channel here: https://t.me/TheTrueReporter
In Canada, the vaccination clinics, pop-up, offered the vaccines like ice cream. In the UK, the doctors got bonuses for the C-19 jab.
They want to increase the vaccination rate by vaccinating minors without their patents' approval. Later, when there would be some severe side effects, who would be responsible for that?
The parents have to be on high alert and inform their children of what they should expect. Or, you can remove the child from public school.
Latest reports from Louisiana claim that the frightening situation is alarming for the parents. East Jefferson High School in Metairie, Louisiana, hosted a mobile Ochsner vaccine unit on their campus.
Some minors got the shot without parental approval.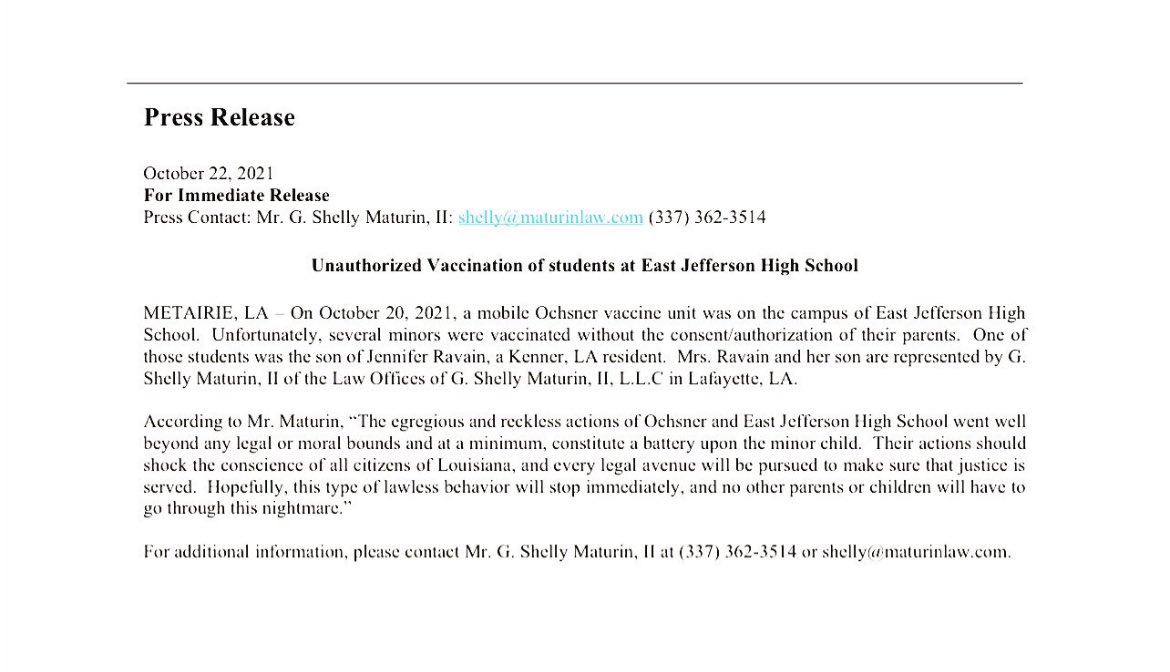 East Jefferson High School in Louisiana was giving covid shots to children WITHOUT parental consent. Hopefully Ochsner will be covering all future medical expenses for the children of these families. Unbelievable. pic.twitter.com/swF2a2UEdE

— Nashville Angela (@Angelasfreenews) October 23, 2021
Louisiana family alleges Ochsner vaccinated minors without parental permission at mobile clinic https://t.co/znMi3by4dG

— wdsu (@wdsu) October 22, 2021
One mother will sue them because she didn't receive proper parental consent to vaccinate her child.
Minor at East Jefferson High School in Metairie, Louisiana #vaccinated without parental consent!

Parents, keep your eyes open! pic.twitter.com/ybIA4bwppr

— *TellTheTruth* (@Truth_Lovr) October 23, 2021
This occurred at East Jefferson High School, in Metairie, LA. pic.twitter.com/bUWPOfgbj8

— Jess (@JessClark007) October 22, 2021
Fox 8 Local First reported:
A mother in Kenner plans to sue after her 16-year-old son managed to get vaccinated against COVID-19 by faking a parental permission signature last week at an Ochsner Health school event, her lawyer said Saturday (Oct. 23).
"Suit is being prepared and will be filed," Lafayette-based attorney Shelly Maturin told WVUE-Fox 8.
Maturin said he is representing Jennifer Ravain and her 16-year-old son, an East Jefferson High School student not of legal age to consent to receiving the shot he took last Wednesday at an Ochsner mobile vaccination event at his school. Maturin called the situation a "nightmare," said it "should shock the conscience of all citizens of Louisiana," and vowed in a written statement that "every legal avenue will be pursued to make sure that justice is served."
Maturin said Saturday that Ochsner Health, the Jefferson Parish School Board and East Jefferson High School would be named as defendants in a lawsuit he intends to file in Jefferson Parish.
Join Our Telegram channel here: https://t.me/TheTrueReporter
Source: fox8live.com