GENERAL
Comcast Exec Deletes Message Calling Ashli Babbitt A "White Trash Traitor" After Massive Backlash
Executive Ryan A. Bell caused an uproar online with his tweet sharing a terrible message about Babbitt; the unarmed female vet killed at the J6 riots by a police officer Michael Byrd.
Join Our Telegram channel here: https://t.me/TheTrueReporter
I can't stop admiring how these emotionally unbalanced liberals can't control their feelings and tweet such disgusting messages. They immediately delete the message, and they apologize.
It is like a mental disorder. They are full of hate and can't control their emotions.
The Marketing Director at Comcast SportsTech did precisely that.
He is Ryan A. Bell, and she shared something really disgusting and later deleted it.
Human Events editor-in-chief Jack Posobiec took a screenshot of Ryan's vulgar tweet and asked why he deleted it.
Check this out:
Hi Comcast Executive @Ryan_A_Bell! Why did you delete this?

Does @comcast believe all Trump supporters are 'white trash' who deserve to be killed? pic.twitter.com/GAn9oXkRqg

— Poso is on Gettr (@JackPosobiec) January 3, 2022
This is a screenshot from the deleted tweet.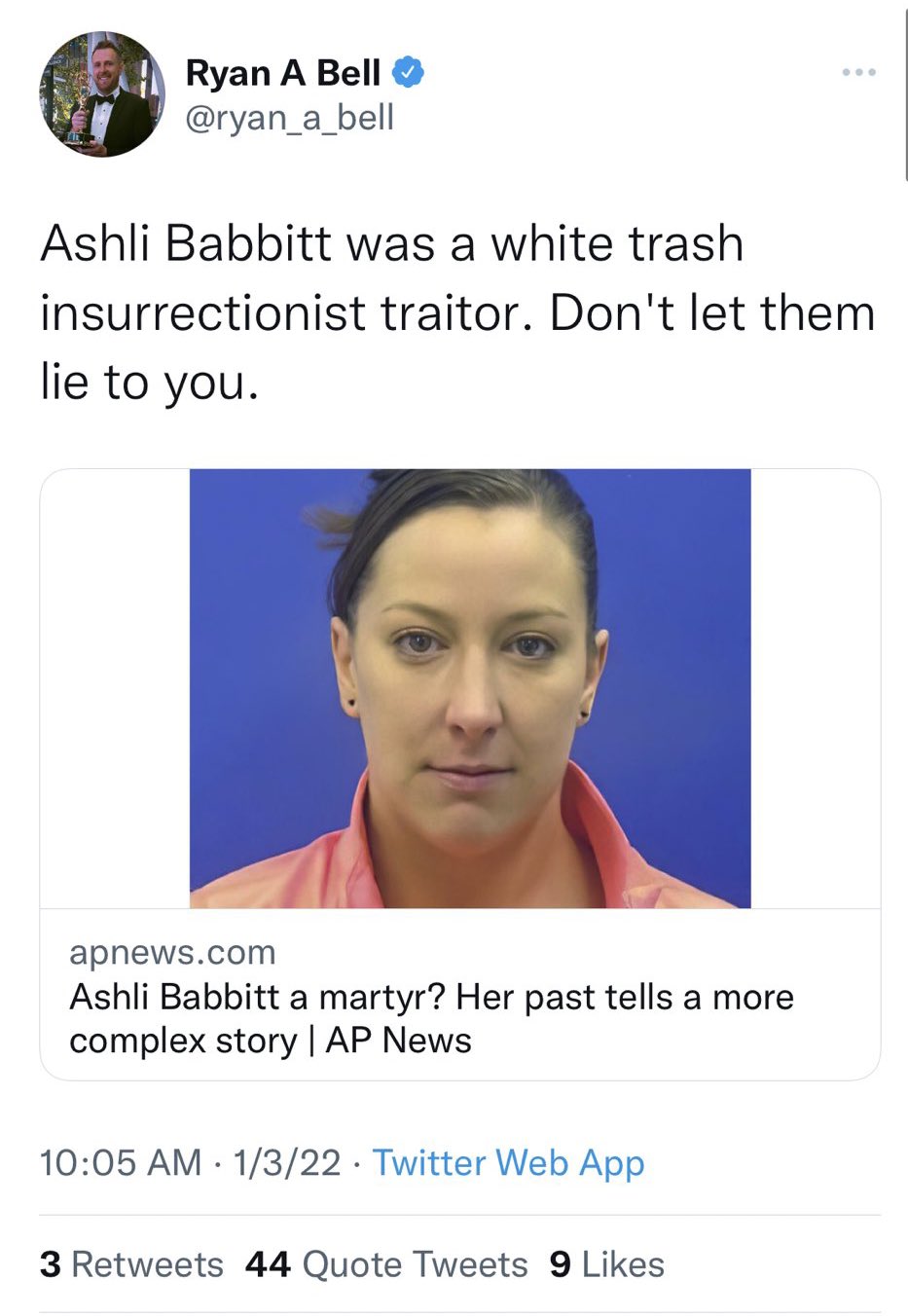 This is his LinkedIn profile.
People are furious at Mr. Bell's terrible tweet, and they are right!
Many people online searched for a way to contact Comcast executive offices so they could share their concerns over what he shared about Ms. Babbitt.
This is the same account that he used to tweet the message.
America has to learn that we don't want their opinion on political matters; they aren't decent human beings to do so.
America has never been this divided! These people are only making things worse!
Join Our Telegram channel here: https://t.me/TheTrueReporter
Source: waynedupree.com